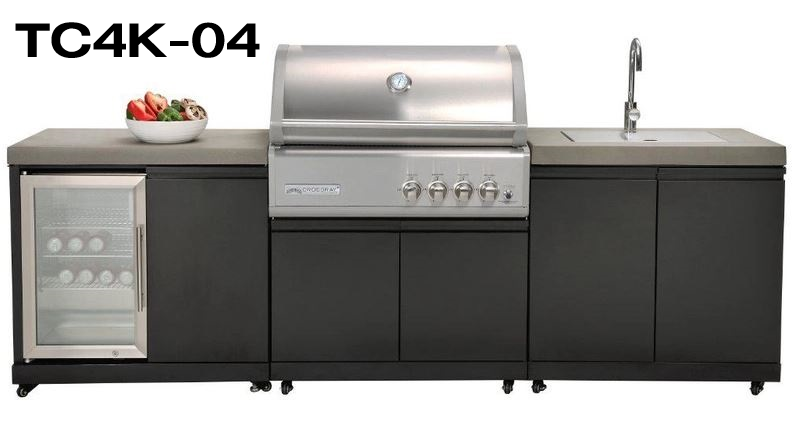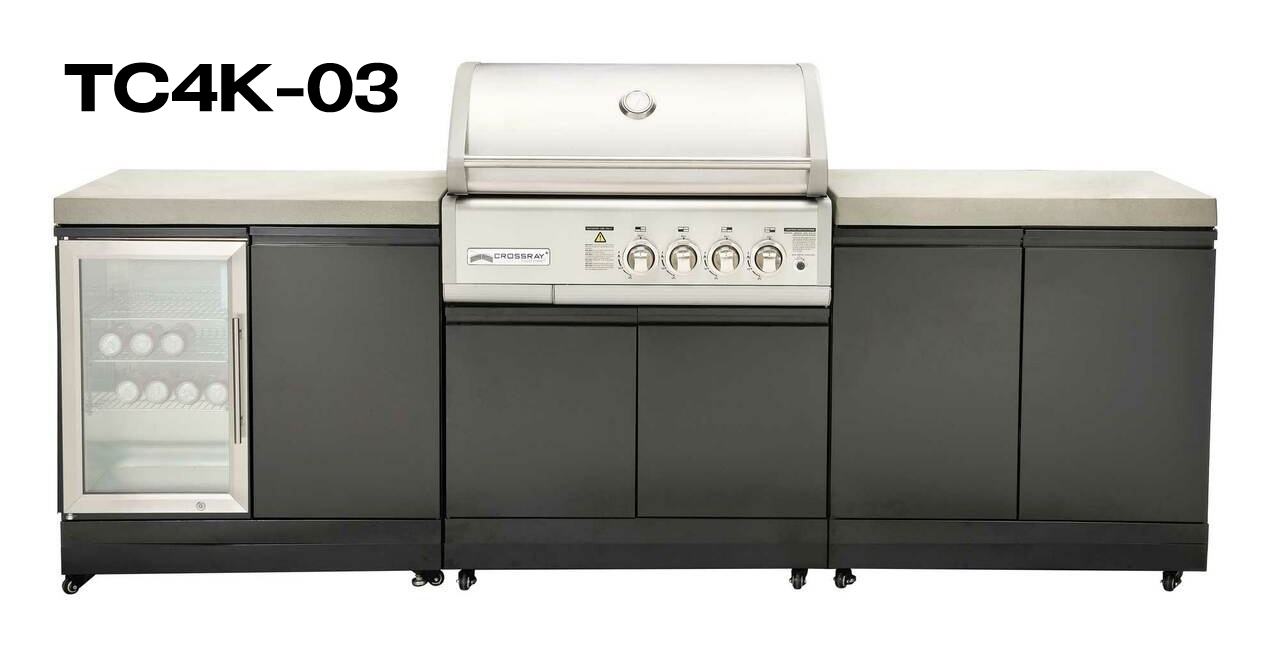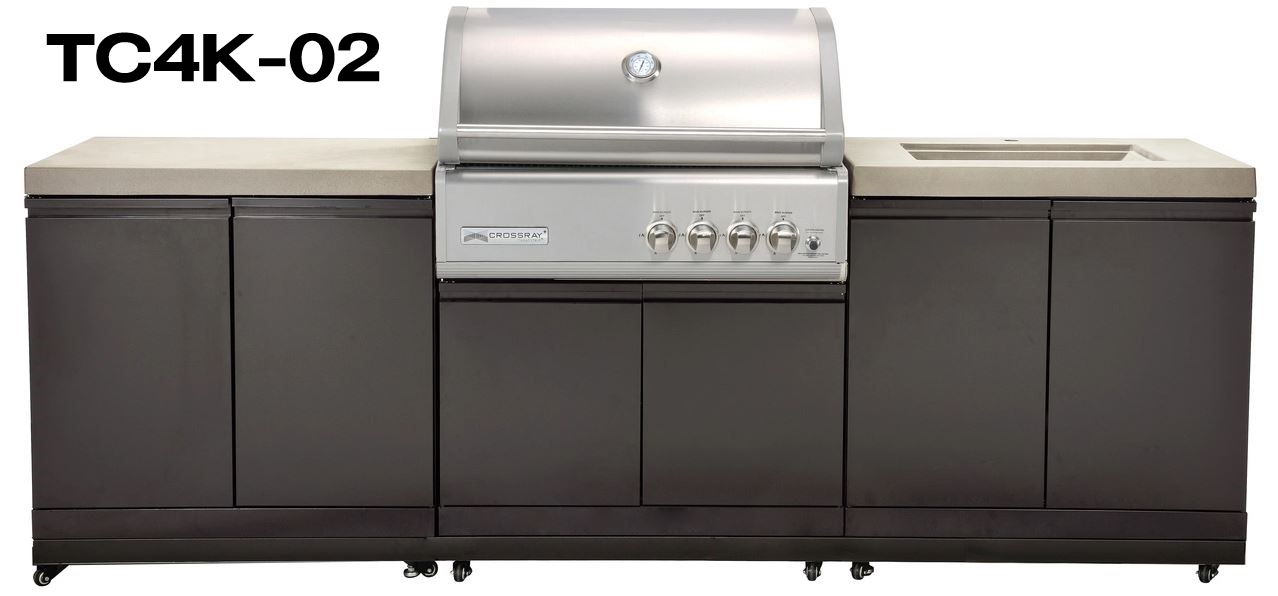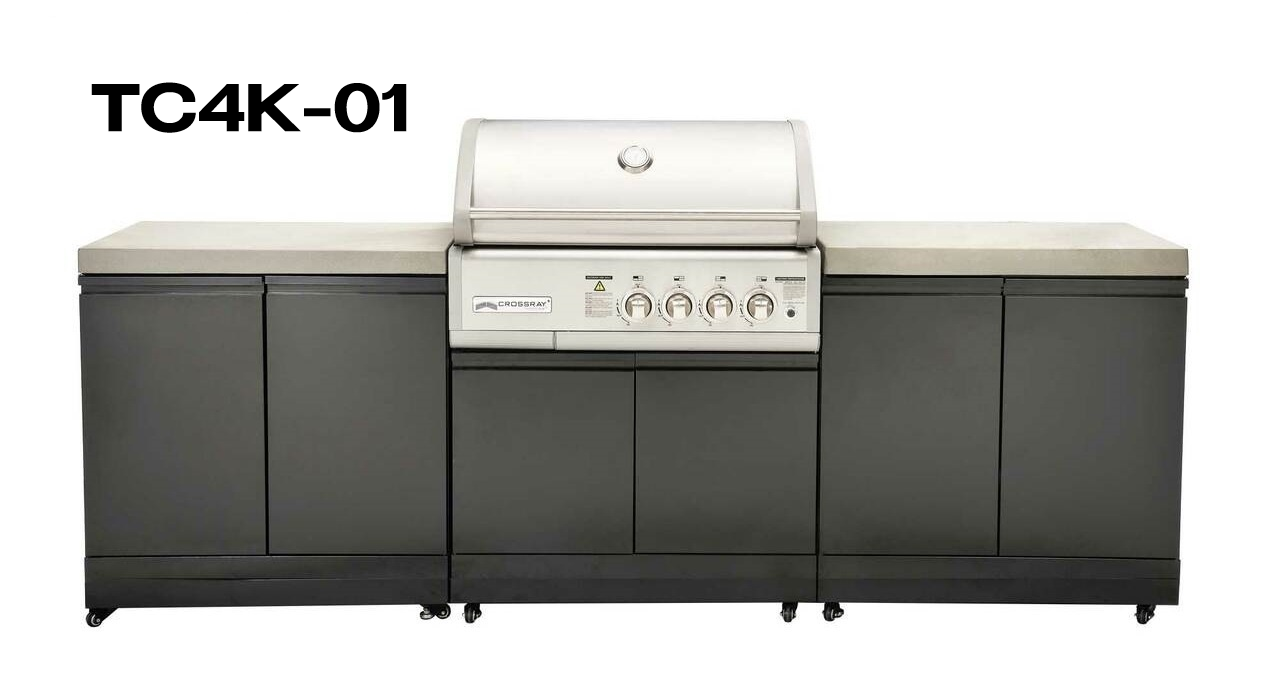 Crossray Outdoor Kitchens (2020-2021 Range)
Gas BBQ Range, Outdoor Kitchen Gas BBQ Ranges
The new CROSSRAY 4B Series sets a new standard for outdoor kitchens, if you are looking for a high-end outdoor cooking experience, without the price tag. Black powder coated cabinets provide the perfect platform for the substantial 60mm composite benchtop that is supplied as standard with all kitchens. Designed to perfectly match the award-winning 4 burner CROSSRAY in-built infrared gas BBQ, it is ideal if you love cooking and entertaining outdoors, in style. With a wide variety of options and inclusions to choose from, you can find an outdoor kitchen that is perfect for you and your outdoor area. Features:
Includes a CROSSRAY in-built BBQ model TCS4FL with 4 infrared burners
Substantial 60mm composite benchtop as standard on all kitchens
Cabinetry designed to custom fit your Award-winning CROSSRAY BBQ. Plenty of preparation and storage space available.
Side kickboards are included free of charge
Multiple options to choose from, including double side cabinets, flat benchtops, moulded sink & cover, fridge
Flat pack for easy DIY assembly
BBQ in world-class 304SS stainless steel construction, controllable even heat from 140°C to 350°C+ and huge cooking area with secondary upper-level cooking zone
Adjustable feet & castor wheels included.
LPG as standard, but convertible to natural gas.
Four different Outdoor Kitchen options available as seen in images:

TC4K-01 - Crossray 4 Burner BBQ with middle BBQ cabinet PLUS: Two double cabinets with flat composite material bench tops
TC4K-02 - Crossray 4 Burner BBQ with middle BBQ cabinet PLUS: Two double cabinets with flat composite material bench tops, sink

TC4K-03 - Crossray 4 Burner BBQ with middle BBQ cabinet PLUS: Two double cabinets with flat composite material bench tops, single fridge
TC4K-04 - Crossray 4 Burner BBQ with middle BBQ cabinet PLUS: Two double cabinets with flat composite material bench tops, single fridge, sink

All components also available individually (cabinets, bench tops, fridges, sink etc.)
Extra accessories available include: natural gas conversion kit, rotisserie kit, hotplates, kickboards, BBQ covers
Enquire Now